Welcome to the Strategic Forum for B2B Marketing Leaders
brought to you by Red House B2B Marketing

The Strategic Forum for B2B Marketing Leaders has been developed in response to challenging economic conditions. It's designed to facilitate the successful transition of marketing efforts to align with current conditions. The format of the Strategic Forum will be an unscripted, live session, where you'll participate in a group discussion and hear first-hand from peers and our own agency strategists about current challenges and how they're overcoming them. Participants are encouraged to submit 3 questions they would like discussed within the session. The next Strategic Forum for B2B Marketing Leaders will be held Thursday July 16th at 10am EST. If you're interested in participating, please fill out the form on the right-hand side. Our goal is to deliver an informative session and facilitate knowledge sharing among peers, so we respectfully request no substitutes.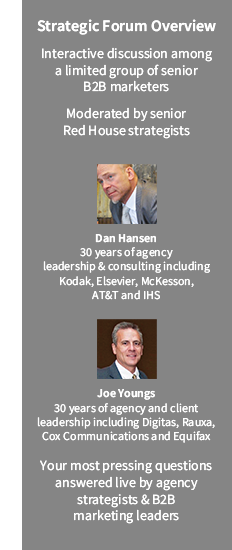 Why Red House?
We're a B2B agency that works with leading brands

(see client experience here)

.

Few modern agencies have weathered as many economic storms as Red House over the past 20 years.

75 years of collective experience in hands-on B2B consulting & strategic program development.

We're recognized as a 2020 top agency by Chief Marketer, Medical Marketing & Media and B2BMarketing.
More information about the event:
Registration deadline is Tuesday July 14th.

The Strategic Forum is limited to the first 10 registrations in order to ensure everyone can participate in the session discussion.

We will review all questions and address as many as time allows during the session.

Zoom meeting details will be sent to attendees within 24 hours of registration.
<!--[if lte IE 8]><!-- [et_pb_line_break_holder] --><script charset="utf-8" type="text/javascript" src="//js.hsforms.net/forms/v2-legacy.js"></script><!-- [et_pb_line_break_holder] --><![endif]--><!-- [et_pb_line_break_holder] --><script charset="utf-8" type="text/javascript" src="//js.hsforms.net/forms/v2.js"></script><!-- [et_pb_line_break_holder] --><script><!-- [et_pb_line_break_holder] --> hbspt.forms.create({<!-- [et_pb_line_break_holder] --> portalId: "3442084",<!-- [et_pb_line_break_holder] --> formId: "df688558-e2f5-4c48-a5d1-40f56031aaf3"<!-- [et_pb_line_break_holder] -->});<!-- [et_pb_line_break_holder] --></script>